The impact of coronavirus is wide ranging within the building industry, from effects felt within the supply chain, through to the inevitable questions about its impact on employment conditions and safety.
It is critical that building company supervisors and employees train their staff in strict hygiene
In addition to physical wellness, employers should consider mental health, too, because employers report anxiety among workers as one of the top issues brought on by the coronavirus.
Under the WHS laws, employers must have measures in place to eliminate or manage the risks arising from COVID-19.
To do this, you should keep up to date with the latest COVID-19 information and advice to ensure that any action taken is appropriate. This includes closely monitoring the information provided by the Australian Government Department of Health, the Smartraveller website and advice from state or territory government agencies, including health departments and WHS regulators.
You will not be able to completely eliminate the risk of workers contracting COVID-19 while carrying out work. However you must do all that is reasonably practicable to minimise that risk.
What control measures will be reasonably practicable will depend on the work being carried out by workers and particular workplaces. Generally, you should:
determine appropriate control measures in consultation with workers, their representatives and taking account of official information sources
implement those measures and clearly communicate them to all workers, including providing clear direction and guidance about what is expected of workers
workers should know when to stay away from the workplace
what action to take if they become unwell
what symptoms to be concerned about
continually monitor relevant information sources and update control measures when and if necessary
employers should continue to provide information to workers, including changes to control measures, as the situation develops
provide workers with continued access to official government sources for current information and advice
provide workers with appropriate personal protective equipment and facilities, and information and training on how and why they are required to use them
require workers to practice good hygiene, including:
limiting contact with others, including through shaking hands
covering their mouths while coughing or sneezing
sterilising any tools that are shared, or providing employees with seperate tools kits
providing clean and sterilised toilet facilities and cleaning products such as soap and/or hand sanitiser
require workers to stay away from the workplace if they are unwell and not fit for work, and encourage them to seek medical advice as appropriate
seek advice from health authorities immediately if there has been a confirmed case of COVID-19 in your workplace
limit access to the workplace by other people, unless necessary
reconsider work-related travel and implement other methods of communication
remind workers that they have a duty to take reasonable care for their own health and safety and to not adversely affect the health and safety of others
provide workers with a point of contact to discuss their concerns, and access to support services, including employee assistance programs
allow workers to access available entitlements in line with obligations under any applicable enterprise agreement, award, employees' contracts of employment, and workplace policies​
To assist you to do this quickly and efficiently, the Green Building Institute has created an easily understandable and affordable on-line course, in association with the Australasian Infection Control Society. It contains important facts and information from the World Health Organisation, the Federal Department of Health, and WorkSafe Victoria, and is created in such as way to ensure that employers and employees understand the information. Topics covered include:
How to carry out proper hygiene practices
How to disinfect surfaces
Business continuity planning
Safe Travel procedures
Risk Assessment and COVID-19 SWMS
On-site Social distancing principle
We recommend putting all your staff through this course as soon as possible. Although a lot of information is freely available on the internet, employers should not rely on their employees finding the correct information themselves, and simply reading it. It is vitally important that they show they understand it; it could be a matter of life or death for some people.
The course can be completed from home on any internet connected device, including phones, tablets, laptops or PCs, and can translate into over 35 languages.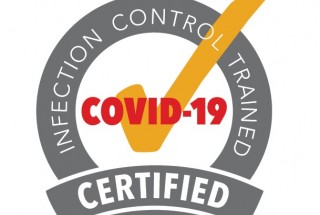 Employers who complete the course are issued with a certification. The course takes about 2 hours to complete. Certification is issued by the Green Building Institute, and the Australasian Infection Control Society.


COST:
The training is free for all trades people, and payment ($49) is only required for certification to be issued.
PRESENTERS:
Dr Cameron Jones (PHD), BSc, Grad Dip App Sci PhD, Certificate IV in Property Services (Real Estate), Diploma of Security and Risk Management
Richard Anthony, Australasian Infection Control Society, Health Standards Australia, Certificate IV in Business
Daniel Wurm, Green Building Institute, Diploma in Vocational Education and Training
World Health Organisation
NSW Department of Health
Testimonials
"Fantastic course! Very informative and detailed. You gain a lot more information compared to the health.gov site and it's tailored for painters! Would recommend it to any painter who is concerned about the safety of their employers and their clientele. Great awareness and worth doing. Great work guys!"- R. Pergolizzi, Proper Painting P/L, VIC
"I personally felt that it was a positive for me and my workers and my clientele to do this course. I actually learned something and today I did a briefing with my guys and my strata clients and they both appreciated it . It's a win for my business." - M. Antosz, Natural Colour, NSW