The Victorian Residential Efficiency Scorecard (or Scorecard for short) is an Australian-first home energy rating program. The Scorecard will enable you to obtain a star rating for your home, in the same way as a fridge or washing machine has a star rating. The star rating is a representation of the running cost of the home based on construction and fixed appliances. It will provide you with an indication of how efficient the home may be, and guide you to make home improvements efficiently and cost effectively.
The Green Building Institute has been accredited by the Victorian Government to offer Victorian Residential Efficiency Scorecard assessments in Victoria.
Short introduction video: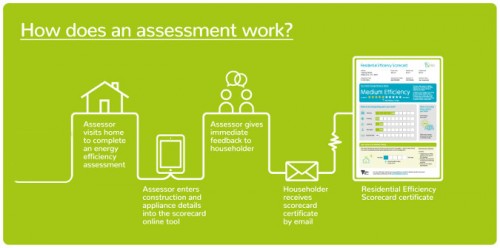 If you are interested in getting a Scorecard Assessment for your home, fill in the form below and we'll be in touch to discuss further.
I'm interested in getting a Scorecard Assessment
For any other enquiries relating to the Green Building Institute and Victorian Residential Scorecard Assessments please contact us
Note: Private Organisations deliver Scorecard assessments and do not represent the Victorian Government. For more information please visit www.victorianenergysaver.vic.gov.au.